MICROBIOME ANALYSIS
FROM BENCH TO PEOPLE
The first all-in-one microbiome platform for forward thinking healthcare and wellness. The flexibility to enjoy only what you need from your data , the way you want and without a single line of coding.
The new way to enjoy microbiome data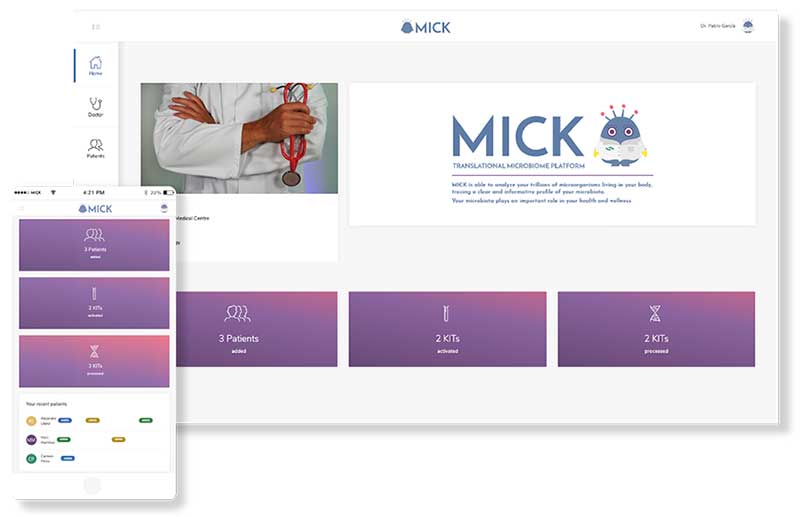 CATCH
MICK automatically identifies the microorganisms in a sample, analyses key microbiome health status patterns and functionality , performs an in-depth characterization of identified pathogens
CHECK
Monitor patients' microbiome status over time. Record key aspects of patients' health. Unlock Global Health Index and Nutrition Index to go deeper into your analysis
CHANGE
Access a ready-to-use report to easily communicate and share the results with patients online and offline. Customize the report to fit your needs.
Microbiome analysis made easy
There is no need to be an expert data analyst to use MICK. Are you a practitioner or a nutritionist?
Find out how MICK helps you serve your patients even better.
MICK is powered by Sequentia Biotech a cutting-edge bioinformatics company operating in the genomics and microbiome data analysis field since 2013.
Our mission is to accelerate microbiome-based healthcare solutions and discoveries for the benefits of everyone.
We believe that science evolves very fast, while software has not. We thrive to offer cutting-edge software solutions to move data from bench to peoples' lives