MICROBIOME ANALYSIS
FOR PERSONALISED HEALTHCARE
The First Digital Decision Support platform that helps Doctors
integrate microbiome analysis into clinical practice.
FOR WHAT?
MICK is designed to help healthcare professionals offer personalized medical advice to patients. The microbiome of each human body organ is unique, and is responsible for various clinical outcomes and drug responses.
MICK is the solution to integrate microbiome analysis into your clinical practice, to help guide your therapeutic decisions and provide targeted prevention to your patients.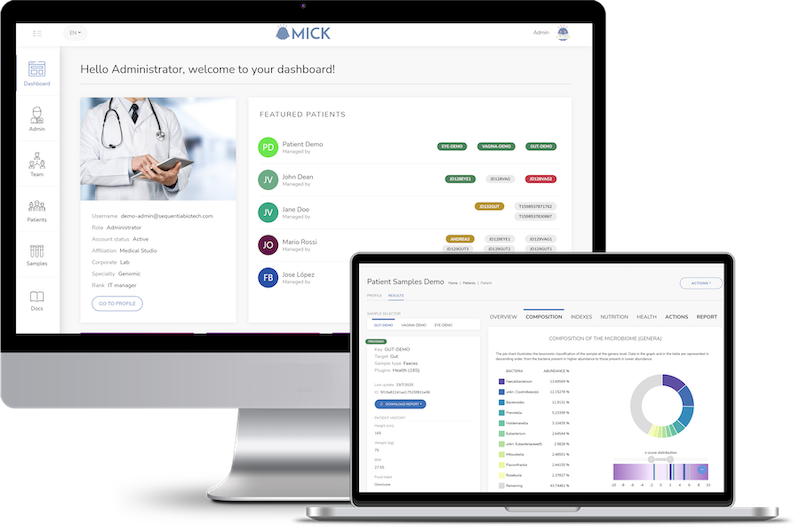 CATCH
MICK automatically identifies the microorganisms in a sample, analyses key microbiome health status patterns and functionality , performs an in-depth characterization of identified pathogens
CHECK
Monitor patients' microbiome status over time. Record key aspects of patients' health. Unlock Global Health Index and Nutrition Index to go deeper into your analysis
CHANGE
Access a ready-to-use report to easily communicate and share the results with patients online and offline. Customize the report to fit your needs.
Real-time. On demand. For healthcare
Care for your patients even better, with MICK
MICK is powered by Sequentia Biotech a cutting-edge bioinformatics company operating in the genomics and microbiome data analysis field since 2013.
Our mission is to accelerate microbiome-based healthcare solutions and discoveries for the benefits of everyone.
We believe that science evolves very fast, while software has not. We thrive to offer cutting-edge software solutions to move data from bench to peoples' lives
Upload your data
Just upload your raw microbiome data into MICK.
Both standard and high-coverage sequencing techniques are supported.
MICK's secure and accurate workflow will process your data in just few minutes.
From sample to Results with MICK+
From sampling kit and sequencing to the final report.
Both standard and high-coverage sequencing techniques are supported. Efficient, secure and affordable.
Choose your plan
MICK is designed to fit every doctor's needs with a subscription + pay per analysis model. Pay only for what you need. MICK allows for basic, nutrition, health and complete analysis, and we offer both Amplicon sequencing or WGS. MICK+ plugin also features a sample to results service.
Choose the subscription plan that best suits your team size:
Professional
Platform access and data storage
1 Basic user
50 patients per month
2 analysis included*
Branding not included
Studio
Platform access and data storage
Up to 3 users
Unlimited patients per month
2 analysis included*
Branding included
Lab
Platform access and data storage
Up to 8 users
Unlimited patients per month
2 analysis included*
Branding included
Corporate
Platform access and data storage
10 users with different hierarchies
Unlimited patients per month
2 analysis included*
Branding included